How to Install MYFORDTOUCH CAM (FORD FOCUS / 2013, USA), MYFORDTOUCH CAM (FORD FOUCS / 2013, USA)
2011 and Up Ford/Licoln MyTouch Camera Input Kit
Notes:
Must have MyTouch system
The MyFordTouch Cam allows the easy integration of a rear camera to the factory MyTouch system. Once installed, the camera will display automatically on the screen whenever the vehicle is shifted into Reverse.
This particular module is not appropriate for the Ford Explorer; for the Explorer, the MyFordTouch Cam-E is necessary.
Note: This kit is only the interface and camera harness, the camera itself is sold separately.
If video/navigation in motion is desired for the vehicle, then the MyTouch VIM module is also available.
For More Info or to Book an Appointment:
Call 310-827-8121
Email Saturndrcmedia@gmail.com
http://www.ae-33.com
http://www.facebook.com/AEMarina33
http://www.twitter.com/delreycustoms
http://www.yelp.com/biz/al-and-eds-auto-sound-marina-del-rey.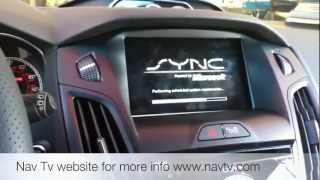 How to Install MYFORDTOUCH CAM (FORD FOCUS / 2013, USA)
Download Video